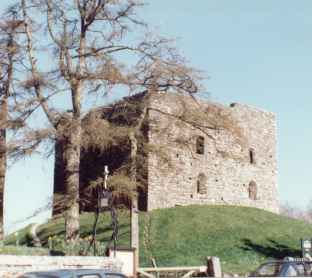 Lydford Castle
of AD 1195



October 2017

Saturday 07th October, Nicholls Hall, 10.00 - 12.00
Lydford Produce Shop
For details, please contact Kirsty on tel: 820-335.

Thursday 05th October, Castle Inn, Lydford, at 20.00 for the 20.30 to 21.30 session
Lydford Book Group "Italian Shoes"
For further information, call or text Bekki Hill on 07-949-870-812
or email to her via bekki@bekkihill.com .

Tuesday 10th October), Nicholls Hall, 19:00 (Second Tuesday of each month(
Lydford Parish Council Monthly Meeting
All Welcome
Contacting the Parish Council Clerk (Mrs Theresa Redding):
. . . . . By post: Westford Cottage (formerly "Wastor"), Lydford EX20-4BW,
. . . . . By email: clerk@lydfordparishcouncil.com
. . . . . By telephone: 01-822-820-472 .

Thursday 19th October, Nicholls Hall, 19.00
Village Meeting to discuss whether the existing separate charities for the Nichols Hall and the Sports Field should be merged. Please cime along to give your opinion on this important Lydford matter.

Thursday 19th October, Lydford House Hotel, 20.30-22.30
Lydford Crochet/Knit and Sip Club
If interested in joining.,
please contact Bekki Hll on 07-949-870-812 or via bekki@the dartmooryarncompany.co.uk .


November 2017

Wednesday 01st November , Nicholls Hall, 19.30
Performance by the Tavonian Theatre Company
of the great comedey "Cheshire Cats" by Gail Young
Ticket, £10 from the Castle Inn, the Lydford Shop or at the door.

Thursday 02nd November, Castle Inn, Lydford, at 20.00 for the 20.30 to 21.30 session
Lydford Book Group
For further information, call or text Bekki Hill on 07-949-870-812
or email to her via bekki@bekkihill.com .

Tuesday 14th November, Nicholls Hall, 19:00 (Second Tuesday of each month(
Lydford Parish Council Monthly Meeting
All Welcome
Contacting the Parish Council Clerk (Mrs Theresa Redding):
. . . . . By post: Westford Cottage (formerly "Wastor"), Lydford EX20-4BW,
. . . . . By email: clerk@lydfordparishcouncil.com
. . . . . By telephone: 01-822-820-472 .


December 2017

Thursday 07th December, Castle Inn, Lydford, at 19:30 for 20:00
Lydford Book Group's Chridtmas Dinner
For further information, call or text Bekki Hill on 07-949-870-812
or email to her via bekki@bekkihill.com .

Saturday 09th December, Lydford Church, morningfrom 09:30
Flower Decorating in the church

Sunday 10th December , Lydford Church, 17:30
Lessons and Carols (NB: No Morming Service)

Tuesday 12th Decemner), Nicholls Hall, 19:00 (Second Tuesday of each month(
Lydford Parish Council Monthly Meeting
All Welcome
Contacting the Parish Council Clerk (Mrs Theresa Redding):
. . . . . By post: Westford Cottage (formerly "Wastor"), Lydford EX20-4BW,
. . . . . By email: clerk@lydfordparishcouncil.com
. . . . . By telephone: 01-822-820-472 .

Saturday 23rd December Lydford Church, 14:00
Christingle Workshop

Sunday 24th December Lydford Church, 11:000
Service of Holy Communion

Sunday 24th December Lydford Church, 16:000
Christingle Service

Monday 25th December Lydford Church, 10:30
Christmas Morning Communion Service
Please note the starting time of 10:30.

Sunday 31st December Lydford Church, 11:000
Service of Holy Communion


January 2018

Friday 12th January, Nicvhols Hall, Lydford, 21:00 - 25:00
The Famous Lydford 12th-Night Ball
Music by the Sky Walkers
Ticket for Entry and Refreshments: £10.00
In Support of Cancer Research UK

Thursday 18th January, Lydford House Hotel, 20.30-22.30
Lydford Crochet/Knit and Sip Club
If interested in joining.,
please contact Bekki Hll on 07-949-870-812 or via bekki@the dartmooryarncompany.co.uk .


============================================================================================



Various events take place also at Lydford Gorge
Please Click Here
to see information about the Gorge and the telephone numbers for obtaining event information.





For information about Lydford Cricket Club and its events
Please Click Here
to e-mail to the Club Secretary, Lee Easton



Tai Chi Class, starting on Monday 04th July
Mondays: 14:00, Nicholls Hall
Details from Mandy Moor on telephone 01-837-871-147 or 07-765-653-896.
Art Group
Mondays: 18:30 to 21:30, Nicholls Hall
Details via telephone 01-822-820-589.
"Community Drop-In" Mornings for Coffee / Tea + Homemade Cakes at the Nicholls Hall from 11:00
Tuesdays: from 10:30.
Lunches (Two Courses + Coffee / Tea) will be available at 12:45 (Cost, £3).
All ages are welcome: For additional information, please contact Sue Holland on 820-263
Post Office, Tuesdays 11:00-15:00, Nicholls Hall
Badminton: Tuesdays, 20:00 - 22:00, Nicholls Hall
Restarts on Tuesday 8th of September
All Welcome: young, old, novice, experienced
. . . £2 per session:
We shall be very glad to have new members:
if you may be interested, please telephone to John Edmonds on 820-614.
Quiz Night at the Castle Inn
Wednesdays: 20:30: 50p / person
All profits go to The Friends of Lydford Primary School.
Yoga Classes
Thursdays 18:30 - 19:45, Nicholls Hall
Further information: from Helen Gore on 01-837-553-72
Post Office, Fridays 11:00-15:00, Nicholls Hall
Table Tennis
Fridays 13:30-16:00, Nicholls Hall
Details from Mo Huggins on 820-237
New Members are Welcome to all our Club Activities above.